What is behavior AI?
We use the term Behavior Model to describe the deliberate development of specific habits and systems to achieve both short term and long term goals. 
What is a behaviour model?
 Our prototypical example of a behaviour model is BJ Fogg's famous

  B=MAP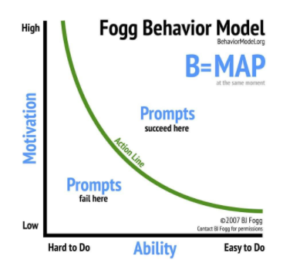 What we've come to realize once we've analysed Fogg's Behavior Model is that, no matter how high the motivation of our clients is, we always need to make sure to offer them prompts, reminders, we need to nudge them towards doing their daily tasks, in order for them not to break their "daily streak" of habit formation, we need to deeply analyse their behaviour, know their abilities and then offer suitable solutions.
How do we select a habit?
A habit development journey is a little more complicated than you might think. We've developed a sampling process that gives users the opportunity to try out different habits until they find the right fit. 
How to not feel stuck during the habit formation process?
We've created a flexible platform that gives users the freedom to try out different habits through our sampling process until they find one that sticks.  
How can Vianova's technology help?
Our flexible platform, with its emphasis on habit formation and behavior change, gives users the freedom to develop the habits they want at their own pace.
Why are we trying to help change behaviour in healthcare?
We believe that healthy habits lead to a better quality of life for patients, fewer healthcare emergencies and hospitalizations, as well as tremendous savings throughout the healthcare system. 
What are the core behaviors in healthcare?
Core behaviors are those habits and behaviors that are the cornerstones of health. We call these core behaviors the 4Ms: Meals, Movement, Monitoring, and Medication.
How does our platform impact those behaviours?
By building habits focused on the 4Ms, our platform encourages patients to develop the habits they need to have their best quality of life.
What are the four Ms?
The 4Ms are Medication, Meals, Movement, and Monitoring.
Does Vianova offer health kits?
Yes, Vianova offers kits that may contain one or more biometric devices. (see link attached) 
How to connect the health kits via bluetooth?
When starting a measurement process and the automatic way is selected, if the device has not been paired via Bluetooth before, the tutorial on how to pair the biometric device will show up. If the device is paired, it connects and waits till the measurement is completed and the value is readed on the app. 
How does Vianova's platform help students to learn?
Our platform keeps students engaged with their course material every day, rewarding them every step of the way.
What teaching methods does Rita use?
Our platform makes it easy to create customized course material, including videos, PDFs, quizzes and more! 
What types of habits does Vianova help students form?
Students develop the habit of engaging with new material, and the habit of learning.
What is give-tech?
Give-Tech is Behavior AI technology optimized to provide an effective digital engagement experience to donors. 
How does Vianova's platform help NGOs and Non-profit organisations?
Our Give-tech Platform is our nonprofit digital engagement platform. We've made the fundamentals of fundraising easy. Keep your donors informed and help them spread the word about your cause while helping them form the habit of giving.
What is the DNA behaviour in give-tech?
"DNA" stands for Donate, Network and Active engagement.
Demo program & fees, how it works- Healthcare plan
Does Vianova offer training sessions for its healthcare remote patient monitoring platform, and if so, what is the training session's framework?
Yes, Vianova offers training sessions on the platform. 

Usually, 2 sessions for the Dashboard (Doctor's web app) and 1 session for the Vianova app (Patient's app) are enough. Vianova trains the clinical staff and the staff train the patients. 

Vianova app has tutorials inside that younger patients don't really need much training.




First Traioning Day: App & Dashboard Training Session
Second Training Day: App (if needed) & Dashboard Training Session
Is it possible for Vianova's AI Bot - Rita - and customer call center to be available in multiple languages?
 Rita's conversations can very easily be translated into other languages. Customer call centers are in English and Spanish. We don't support other languages at the moment. For any other language, we have to discuss with the customer in order to find a solution, maybe a local call center that transfers the issues to Vianova in English.
How does Vianova's customer service center support many time zones and languages?
 Vianova customer service offers real-time support on US eastern and western time-zones from 8-5 in English and Spanish. After this time, the call goes to voicemail and the team will get it the next day.
Does Vianova provide patient training on how to use their remote patient monitoring platform?
Vianova trains the clinical staff and they continue training their patients.
What are Vianova's data security policies, and what data protection certifications and licenses does Vianova have?
Vianova is a HIPPA complient solution. No PHI is stored. All the communication between Dashboard and Patient app is handled through a secured network.
Vianova's security is validated by the Lenovo security team, including Pen tests.
How will Vianova's Remote Patient Monitoring software be installed and where will it be installed?
The Dashboard is a web-based application. Doctors and Nurses will use their login credentials to have access to their patients. 
    The Vianova app is free and available to install on Appstore and Playstore.
Dashboard Step 1: Clinical staff open the provided URL by Vianova which points to the Dashboard.
Dashboard Step 2: Clinical staff use the provided credentials to log in.
Vianova App Step 1: The patient will need to install the app from Appstore and Playstore.
Vianova App Step 2: The patient will use their phone number to log in.
Where will the patient data be saved, on Vianova's server or on the hospital's local servers?
Vianova offers a ready-to-go and simple configuration solution. An instance or organization can be set up within 30 minutes and be used by the customer. This instance is stored in Vianova's servers which are located in the US. All the data is stored under Vianova.
What does the onboarding process for Vianovas' remote patient monitoring look like, and what are the steps?
Onboarding steps:
Vianova creates the organization for the customer and gives access to the right people like Doctors, Nurses, Administrators, etc.

Vianova creates 50 dummy patient profiles that can be connected with the Vianova app.

We do 1 training session of the Vianova app where we show all the functionalities. 

We do 1 or 2 training sessions of the Dashboard, where we show all the functionalities for Doctors and Nurses.

The customer goes ahead and uses the app themself, sees the results on the Dashboard, and at this stage, we clarify all the questions. We assume that in this stage the customer is ready to train their patients and the rest of the clinical/client staff.
How do I get Vianova remote monitoring devices for my patients?
There is no financial obligation to the patient if he or she is a Medicare Part B enrollee and has Medigap type supplementary insurance that covers copays. Otherwise, the patient may be subject to just the copay fees.
Where can I track my patients' activity?
The Vianova portal contains all the information you need to monitor your patients' activity. You can track patient enrollment, see if they have provided all the necessary information to receive a device, including signing the User Agreement, and track their device shipment. Once they start using their device, you can also see all of their clinical data.
How do I get reimbursed?
2019 Medicare reimbursement rules compensate medical providers for prescribing and reviewing data that is produced by monitoring devices that capture/store/transmit patients' physiological data and subsidize the device/service costs.  
Every month, you receive an additional reimbursement of, on average, $55 per patient per month, or about $660 per patient per year. In addition, you receive a one-time reimbursement for setup and patient education for each patient: approximately $20 per patient. Note: these amounts may vary by location.
Which patients are eligible to participate?
Eligible patients are those with Medicare or Medicare Advantage plans who have at least one chronic condition and have consented to participate in a remote patient monitoring program.
How much do I get paid?
Providers receive approximately $60/month ($720 per patient per year) for reviewing data from products like Vianova once a month for 20 minutes. The review of the patient data can be delegated to qualified practitioners in your practice. Providers can also bill approximately $20 for RPM setup and patient education.
Here is a breakdown for additional revenue based on how many Medicare patients you serve:
1 patient x (($60 x 12 months) + $20) = $720 per year
50 patients x (($60 x 12 months) + $20) = $36,000 per year
250 patients x (($60 x 12 months) + $20) = $180,000 per year
What does it cost my patients?
Nothing - it is FREE for eligible Medicare patients. Patients who do not have Medicare part B coverage with Medigap Parts A, B, C, D, F, G, M, N or supplementary insurance may have co-pays.
Remote Patient Monitoring FAQs
What are Remote Patient Monitoring (RPM) Services?
Remote Patient Monitoring (RPM) Services are the use of digital technologies to collect medical data and other personal health information from patients in one location and securely transmit that information to health care providers in a different location for assessment and recommendation purposes. 
These types of monitoring programs can collect a wide range of health data including vital signs such as blood pressure, heart rate, weight, blood sugar, blood oxygen levels and electrocardiogram readings. 
What are the requirements to properly bill for RPM Codes?
In order to bill using these codes you must meet the following requirements:
The patient must opt-in for this service. You must obtain the patient's consent and document it in their medical record

Devices used must meet the definition of a medical device, as defined by the FDA

The service must be ordered by a physician or other qualified healthcare professional

Monitoring must be greater than 16 days to be applied to a billing period

Data must be wirelessly synced where it can be evaluated

The data-monitoring services may be performed by the physician, by a qualified healthcare professional, or by clinical staff, including RNs and medical assistants (subject to state law)
What are the New Remote Patient Monitoring codes?
CMS has not specified but has indicated that they will issue guidance at a later time.
Is Medicare reimbursement available for setting up RPM devices and educating patients?
Part of CPT 99452 includes reimbursement for setting up equipment and educating patients on the use of the equipment
Are there any regional or location requirements to be eligible for RPM reimbursement?
Medicare does not consider Remote Patient Monitoring a telehealth service. Patients can receive reimbursable RPM services at home and they are not limited to patients in rural areas.
Is a Face to Face Exam or Interactive Audio-Video required for Billing RPM?
Generally, no, although if the patient is new, or has not been seen in one year prior to billing RPM, a face-to-face encounter is required (e.g., an annual wellness visit)
Will Billing RPM Services interfere with Billing for Chronic Care Management (CCM)?
Although double counting is not permitted, providers can bill both CPT 99457 and CPT 99490 in the same period.
Is integration to EMR possible?
Yes, we can integrate with 21 EMR's through our partner HEALTH GORILLA. Additional fees for EMR integration are required.
What are the requirements for a patient to qualify for Chronic Care Management (CCM) Services?
Patients are eligible for CCM services if they meet the following criteria: 
multiple (two or more) chronic conditions 

expected to last at least 12 months or until the death of the patient, and 

place the patient at significant risk of death, acute exacerbation/decompensation, or functional decline, are eligible for CCM services
Can the VIANOVA COMMAND CENTRE be used for CCM Services?
Vianova Command Centre is equipped with dual functionality to conduct both RPM and CCM from a single platform. 
Do You Have Any Question?