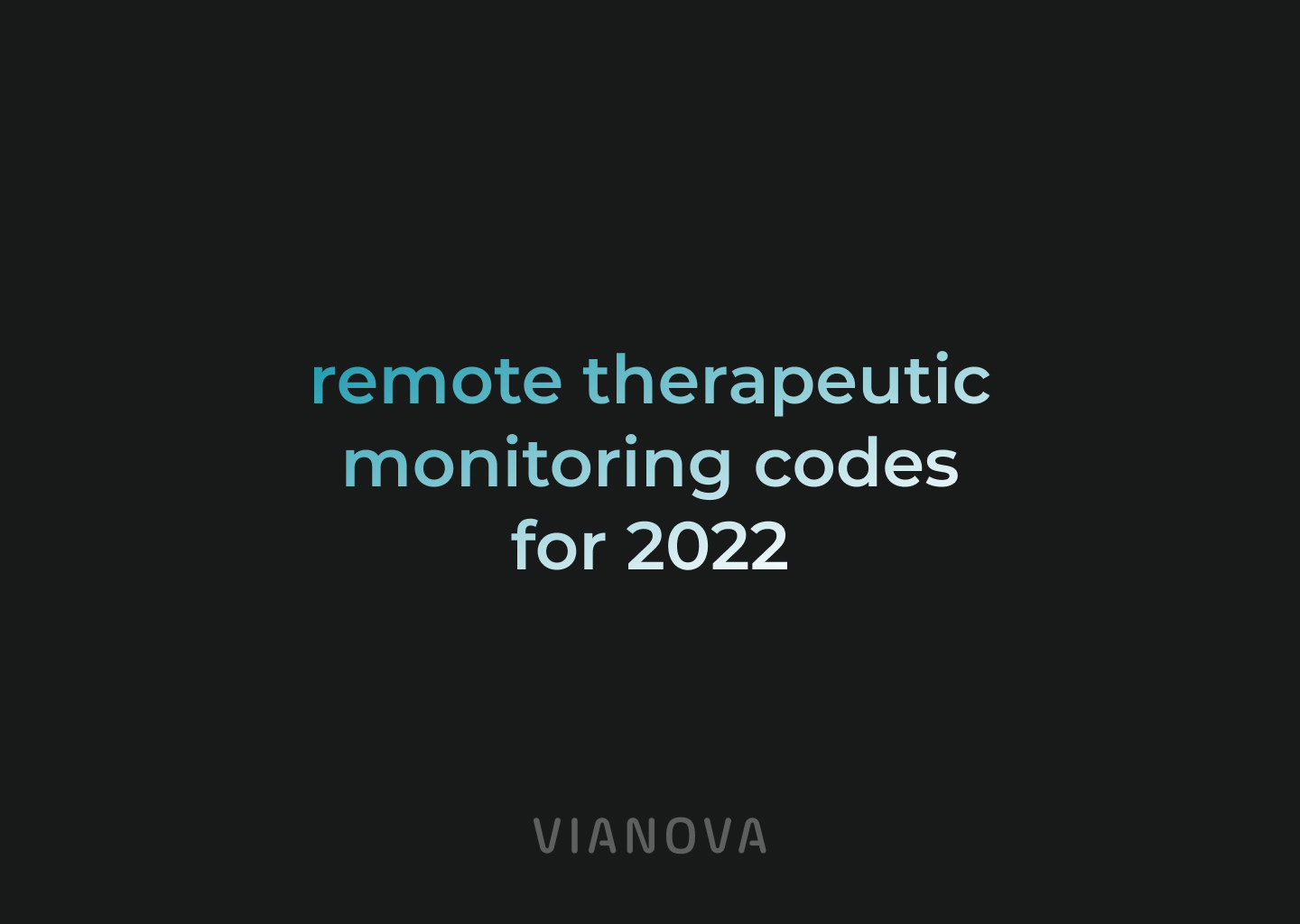 NEW RTM CODES FOR 2022
In 2022, CMS released five new Remote Therapeutic Monitoring  code categories, effective January 1, 2022. 
These new RTM codes expanded the quantity and quality of Medicare reimbursements; going above and beyond the current Remote Patient Monitoring codes. The latest RTM code updates are a great example of CMS' attempt to develop their reimbursement model for the digital health space.  
 What are the Remote Therapeutic Monitoring codes?
CMS' RTM codes consist of four codes in total, including three PE-only codes  and one code that contains both PE and professional work. 
CPT# 98975
Initial setup: clear instructions; patient education before starting to use the RTM platform. 
CPT# 98976
Remote Therapeutic Monitoring devices that provide scheduled recordings or even alerts that are transmitted to the healthcare centers at least once a day, for 30 days in a row..
CPT# 98977
Devices for: Remote Therapeutic Monitoring (RTM):
Respiratory Status;

Musculoskeletal Status;

Adherence, and Responsiveness;

Scheduled Recording(s) and/Or Alert Transmission(s) for Monitoring Musculoskeletal Systems for 30 days in a row.
CPT# 98980
A remote therapeutic management program for patients who require medical supervision by their physician or a certain healthcare professional within a specific and preferable time frame.   
CPT#98981
At least one interaction between the caregiver and the person receiving the service has to be conducted within a month. Either through an online conversation (in-app texting, video-calls, emails, voice messages), or via telephone.
Does RTM actually work for non-biological data?
Yes. RTM was designed to utilize remote monitoring technology to manage patient care for those who use medical devices to keep track of non-physiological data. This includes therapy/medications adherence, therapy/medications responses, and pain level. 
The flow goes in this order:
They are given a specific device depending on their health condition; 

They use it a few times a day; 

They log in their vitals, symptoms and medication.



This way the healthcare professional can keep track of:
The amount of times they've used the device;

The symptoms their patients are having;

Their patients medication adherence.